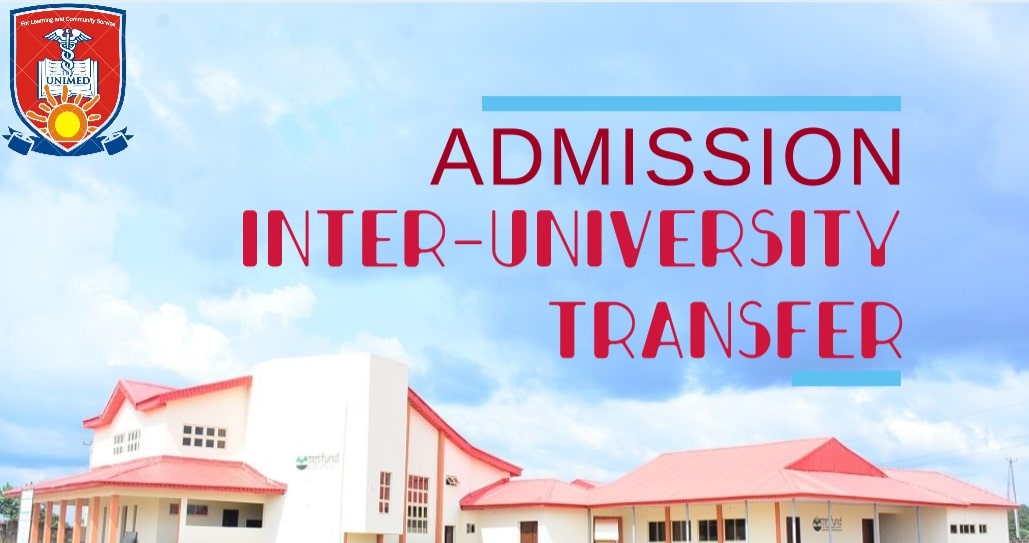 The University of Medical Sciences Ondo wishes to inform the general public of the ongoing application for Inter-University Transfer for Local & International Students. Inter-University Transfer is a process by which a candidate can transfer his/her studies from one University to the other.
Eligibility:
Any candidate who has spent at least a year (two (2) semesters) in an institution (Stalites) with a minimum of 3.50 CGPA can transfer his/her admission from one institution to another, and it can either be Local or International.
Programmes Available include:
Faculty of Clinical Sciences
Medicine and Surgery (MBBS)
Faculty of Dental Sciences
Dentistry (BDS)
Faculty of Basic Medical Sciences
Anatomy (B.Sc.)
Biochemistry (B.Sc.)
Physiology (B.Sc.)
Faculty of Allied Health Sciences
Medical Laboratory Science
Radiography and Radiation Science
Nutrition and Dietetics (B.Sc.)
Health Information Science (B.Sc.)
Faculty of Medical Rehabilitation
Physiotherapy (B.Pt.)
Prosthetics and Orthotics (B.PO.)
Faculty of Nursing Science
Nursing Science (B.NSc.)
Faculty of Science
Physics (Electronics) (B.Sc.)
Physics (B.Sc.)
Chemistry (B.Sc.)
Biological Sciences (Animal and Environmental Biology, Microbiology, Plant Biology and Biotechnology, Environmental Management and Toxicology options) (B.Sc.)
Mathematics (B.Sc.)
Computer Science (B.Sc.)
Statistics (B.Sc.)
Science Laboratory Technology (B.Sc.)
Food Science (B.Sc.)
School of Public Health
Environmental Health Science (B.Sc.)
Community Health Science (B.Sc.)
How to Apply:
Prospective candidates are to register online by visiting the University Website (https://unimed.edu.ng) and click on INTER-UNIVERSITY TRANSFER under ADMISSION to register and purchase the Inter University Transfer Online Form which must be duly completed.
Please note that Applicants would be required to attach photocopies of O' Level Results (WAEC, NECO, GCE or its equivalent) / Official Academic Transcript/JAMB Result/JAMB online Admission Letter/Previous Institution Admission Letter/Birth Certificate and Receipt of purchase to the form before submitting in a sealed and well labeled envelope to the Office of the Registrar, University of Medical Sciences, Ondo.
Applicants within Nigeria are to request for a copy of their Academic Transcripts, which must be forwarded to the Registrar, University of Medical Sciences, Ondo before the University can consider their application.
Applicants from outside Nigeria would be required to write an online competence /evaluation test which would be conducted by the University, in place of their academic transcripts (if not available).
For further enquiries, please visit the University website on https://unimed.edu.ng or send an email to admissions@unimed.edu.ng or call the following numbers +234 813 551 3654, +234 706 957 3618, +234 905 826 3636.
Signed
Dr. Woleola J. Ekundayo
Registrar