SPECIFIC OBJECTIVES OF UNIMED
The Specific Objectives of University of Medical Sciences, Ondo are;
i. To prepare students for leading professional roles in all disciplines in the health sector in Nigeria and globally;
ii. To offer the best tertiary healthcare (including preventive and curative care) for all forms of diseases, disabilities and deformities that are prevalent in Nigeria specifically, and throughout the African region broadly;
iii. To promote research and creative work for improving the health of Nigerians and the world at large;
iv. To develop human and physical resources of the University to some of the best attainable standards in the world; and
v. To promote the health and social well-being of Nigerians through engagement, outreach services and public education.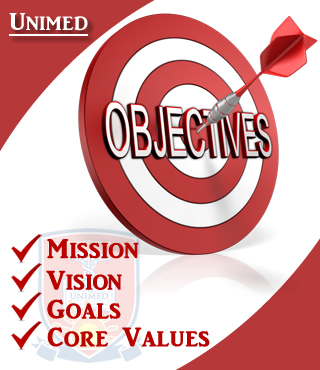 To provide integrated education and research of exceptional quality in all health-related sciences.
To be a thriving medical and health Sciences University, locally, nationally and internationally recognised for excellence and innovation.
» Accountability & Integrity
» Respect & Collegiality
» Inclusion & Diversity
» Service & Efficiency
» Excellence & Innovation

The goal of the University is to support Nigeria's quest for high quality education, service delivery, research and innovation in the medical sciences.