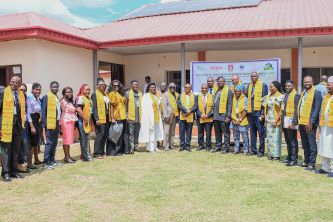 ''The country is currently experiencing shortage of medical expertise and we need to train more. That is why UNIMED established the first Faculty of Medical Rehabilitation in Nigeria. This faculty houses Occupational Therapy, Prosthetics and Orthotics, Speech Language Therapy, and Audiology. As of now, UNIMED has over 20 Medical courses. We can't fold our arms doing nothing as our medical expertise travels out of the country for a greener pasture. We need to train more medical expertise to avert the danger ahead of us.'' Fatusi said.
He stressed this during the 7th Scientific Conference and Annual General Meeting of the Association of Clinical and Academic Physiotherapists of Nigeria, held at the University of Medical Sciences, Ondo town, Ondo State Nigeria.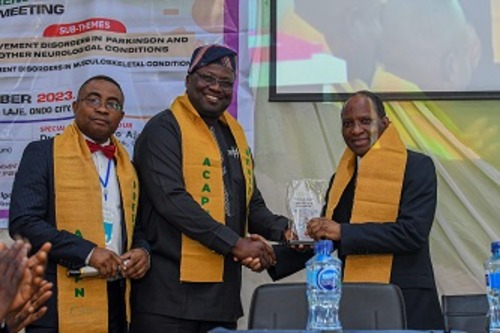 The 7th Scientific Conference and Annual General Meeting which addressed 'Recent Advancement in Movement Disorder in Parkinson and other Neurological Conditions" was well attended by members of the Association all over the country.
The Association President, Dr. Udoka Okafor, at the opening ceremony, stressed that Parkinson disease is different from stroke. He noted that parkistion is a neurological condition that physiotherapists can control apart from using medication.
"Stroke and Parkinson's are different diseases caused by insufficiency of blood in the brain and they are both age-related. These diseases are not diseases of children. However, we can have stroke in younger children, but usually, the age of about 60 years is when the chance of stroke and Parkinson's are higher.
Okafor described neurological condition as a condition that affects the brain and things around the neurological system of human beings. He advised people to engage in regular exercise to prevent the disease.
"Stroke is an affliction that causes the weakness of one side of the body because of insufficient blood in the brain. When there is a problem in the brain, it usually causes insufficiency of blood and this can cause Parkinson's as well Okafo Stated.
The conference keynote speaker, Prof Olatokunbo Olaogun said Parkinson can be inherited and that research shows that people who live in a blacksmithing area or drink contaminated water are prone to Parkinson disease. Prof. Olaogun suggested exercise as care and urged people to always report cases of body shaking and unconscious movement which are symptoms of Parkinson to the nearest physiotherapist.
"To prevent Parkinson's disease, when the conditions are seen gradually or have occurred there are interventions apart from medical which is exercise because we don't know the causes yet but people must engage themselves in exercise so that it will increase the blood flow to improve the blood circulation in the brain to function well.
"When this is done it is not common to develop conditions like neurological conditions including Parkinson's disease."
The programme ended with the best researcher from the Faculty of Medical Rehabilitation UNIMED getting a monetary gift from the Vice Chancellor, Prof. Adesegun Fatusi, and the Association.