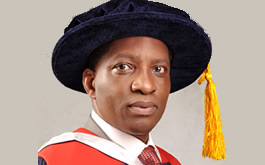 University of Medical Sciences, UNIMED, Ondo, has indicated its readiness to commence COVID -19 test in Ondo State.
Vice-Chancellor of the institution, Prof. Adesegun Fatusi who disclosed this in an interview with The Hope, said the university has the expertise and equipment to carry out the text.
He said that UNIMED has all it takes to conduct test on the coronavirus in terms of human and equipments.
According to him, "the PCR machine used for conducting the test for COVID-19 is available in UNIMED .
His words: "As you know right now, anybody who is suspected, the sample has to be taken to Ede in Osun State to conduct the test because we don't have the capacity but within the next two weeks, we are going to start testing.
"We are going to continue to partner with the state and Federal Ministry of Health to support them not just on COVID-19, we are going to also support them on Lassa fever and on other issues because we are going to ensure the diagnostic facilities are available," he added.
Fatusi further said that the institution was actively involved in community sensitization via indigenous, traditional and social media, saying that it was the most important thing at this point in time so as to let people know what they should do in order to prevent further spread of the virus.
The Vice-Chancellor further revealed that the institution has started producing hand sanitizers, nose masks and other health related products in the state.
Prof Fatusi however called for proper funding and adequate equipment of health centres in Nigeria in order to run effective health institutions.
He added that health workers should be adequately remunerated and government should ensure that everybody is covered by health insurance in order to make medical care accessible to all and sundry.
Also speaking on the fortification of the health sector in Nigeria, the Chairman Medical Advisory Committee (CMAC), Dr Micheal Gbala called for gap analysis of the sector in order to identify the missing expertise in the sector.
"The beauty is that we have health personnel that are well trained in all fields like doctors, nurses, pharmacists but government need to make the working environment conducive for the health workers in terms of their welfare and also make the working tools available, " he added.
He concluded that health care services are not free anywhere in the world, calling on the need for adequate funding of the sector.